Electronics companies need to learn how to connect with engineers under 35.
Why?
Young engineers do the bulk of the object-level work, designing boards, and sourcing parts.
To find them, don't look where the more senior members congregate. A generational divide exists, mainly due to technology. Millennials (born 1981-1995) are the first generation to grow up with the Internet. Generation Z (born in 1996 or later) came to age with the smart phone.
While almost everyone these days might go online to research a new topic or to find advice on components, the reality is that different age groups rely on different sites and different modes of media, based on the habits they learned young.
In general, those under 35 are used to solving problems in a more collective way. They crowdsource expertise through Internet forums, consult how-to videos on complicated builds, and access most of the knowledge of components from digital sources.
Even between the Millennials and "Zoomers" there are varied preferences for certain platforms. This is the subject of Lectrix's recent survey of the engineering profession, which includes 121 working engineers from all age groups.
The questionnaire compares the media consumption of Generation Z and Millennials with those over 35, Generation X, and Baby Boomers. The results provide insight into the differences in channels of information as well as the aesthetic expectations for engineering media.
Channel Frequency
The most obvious generational distinction is the platforms used for learning new subject matter and researching problems, as seen in the graphs here. The results provide clues to electronics suppliers as to how to diversify their approach to capture the attention of younger engineers.
Community sites – such as All About Circuits, Discord and Reddit discussion groups, and Stack Exchange – are now the main online gathering spots for technical discussion. Marketers should monitor the discussions relevant to their niche and find meaningful ways to engage and educate inside the conversation.
Video Takes the Reigns
Videos are the top-ranking resource among young engineers, #1 for Generation Z for researching engineering problems, and tied for #2 when sourcing products. This is in stark contrast to those over 35, where video platforms rank #7 and #9 respectively.
How, then, do companies best position themselves for this youthful habit of searching YouTube first?
Fortunately, there are straightforward prescriptions for improving visibility in YouTube searches and recommendations. For video assets, marketing can make use of transcripts for SEO purposes. If you are thin on content, consider elevating your employees as subject matter experts.
To capture those researching a topic, focus on simple "How To" and "What Is" content formulas. To attract viewers seeking specific sourcing information, provide content with thorough product insight.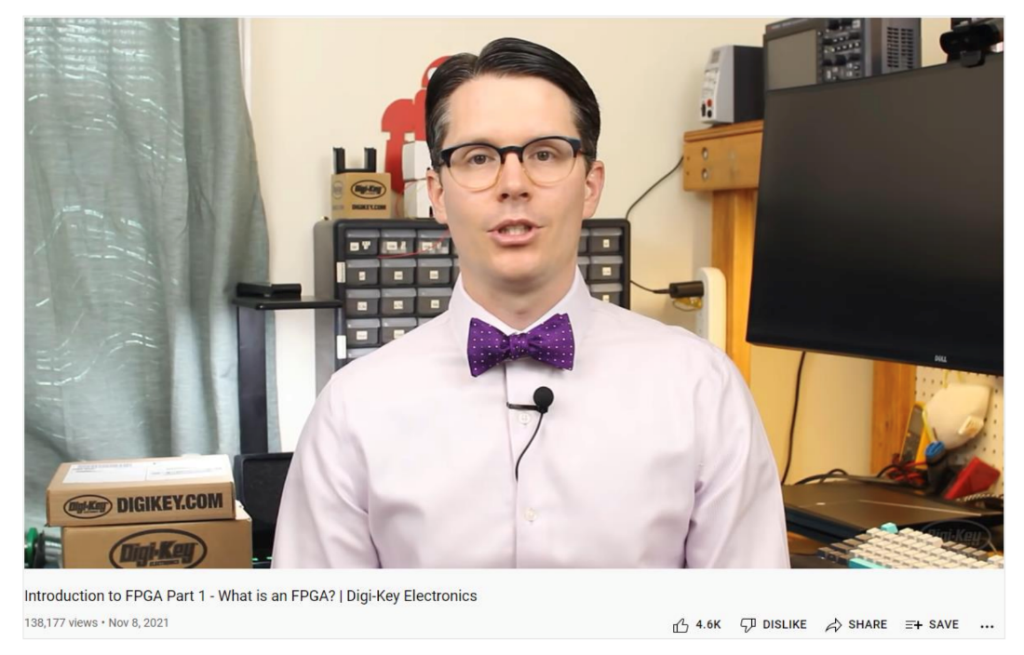 eLearning is Silently Dominant
eLearning is often considered a corporate training tool but can be ideal for establishing thought leadership. While not the top spot for research or product procurement, the Lectrix survey shows eLearning in strong positions across all age groups, junior and senior.
For more complex subjects, engineers may prefer a series of lessons that are self-driven with no set schedule. Learning materials can be solely video-based, but some lessons incorporate text, graphics, video, or audio.  Developing a curriculum for the practicing engineer can go a long way in establishing a brand and can add clarity to the benefits of product offerings. Make sure to include mobile formats in your design for on-the-go learning. For a good example, see Articulate's Rise 360 platform.
Publishing is… Not Dead?
In the past, the industry press updated professionals on the latest new methods. Surely that is old hat! Well, not so fast — digital versions of publications remain a popular and well-used resource, even among Millennials and Zoomers (print is another story).
Readers typically don't come to publications to research products. For effective marketing, diversify editorial and media strategy with more thought leadership and education, and less PR. Strong, evergreen content works for both the promoter and the publisher.
"Whitepaper" Doesn't Mean "Old School"
Though they have been around a long time, whitepapers still represent an important research tool for customers.
If you are linking to ungated PDFs of whitepapers, switch to on-page content with the option to download gated or ungated PDFs to gain significant SEO benefits. Offer a range of types from top of the funnel (education without product promotion) to mid-funnel (education with product promotion).  Promote releases through your own email audience to collect additional contact data and personalize follow-ups per industry.
Manufacturer Websites: A Surprise Underdog?
Another surprising takeaway from the survey is that much information is gleaned from manufacturer websites. Therefore, it is worthwhile optimizing your site for searchability, speed, and usability.
Treat your website as the authoritative source on the component(s) you manufacture. Incorporate easy-to-use mechanisms to capture contacts, such as chatbots, gated whitepapers, and save-for-later content.
Bridge the gap from your website to your distributors' and optimize your product listings on distributor sites because, according to the Lectrix survey, distributors' sites matter, too.
Distributor Websites: The Closer
Distributor websites are also prominent resources for production information across the board. Distributors can build trust early on when they engage students, who will likely extend loyalty after graduation.
Provide engineer-to-engineer accessibility to personalize the purchasing experience. For manufacturers, ensure your products are easily found on distributor sites by optimizing listings with key terms in product names and descriptions. Keep images and specifications up to date.
Blogs, Podcasts, and Webinars
Everyone is jumping on the podcast bandwagon, but the data here is mixed. Unlike video, which grew in popularity from Millennials to Zoomers, podcasts declined significantly. Blogs follow a similar trend to podcasts.
It is unclear whether popularity might increase as more under-25-year-olds enter the workforce or whether this decline in favor is caused by real factors, like an overemphasis on SEO or a mass migration to video formats.
Like blogs and podcasts, webinars also drop drastically in popularity for the under-25-year-old set. Like the other categories, though, webinars are very popular with the over-34 -year-olds.
TikTok Generation Takeaways
Social channels like YouTube, Instagram, and TikTok rank well due to the rising popularity of engineering influencers and related profiles. In these cases, partnerships or sponsorships for online personalities with large followings provide opportunities for brand exposure.
Specific channels frequently cited in the survey include the EEVBlog, Khan Academy, the Engineering Mindset, ElectroBOOM, CircuitBread, 3Blue1Brown, IEEE Spectrum, and the subreddits:  r/electronics, r/engineering, and r/electricalengineering.
To maximize your exposure, it's nice to have experts that can help, from whitepapers to SEO, from website design to video. You'll find electronics marketing experts – of all ages — at Lectrix.